Build your email subscribers list with a WordPress email opt-in plugin
Having an email list is often an overlooked aspect when running a website or blog. Yet this is one of the most important sources of traffic and income for website owners. So if you want your site to succeed, you should invest in a good email subscription WordPress plugin.
For self-hosted sites, one of the best, if not the best newsletter plugin for WordPress is the Bloom Email Opt-in Plugin. This plugin will allow you to capture the email address of any consenting visitor to your site. The Bloom plugin is developed by Elegant Themes, a company specializing in WordPress themes and widgets. They have been around for more than ten years and their themes have been used by more than 300,000 customers.
How Does a WordPress Subscribe Plugin Work?
Imagine a plugin as an accessory that you install to your website and each accessory/plugin performs a specific task that your self-hosted site normally could not do by itself. With Bloom's WordPress Email Subscription Plugin, site visitors will have the option to 'subscribe' to your website by just entering their email address.
These email addresses become your connection to a highly targeted group of people in your niche. You can send site content updates and/or offers to these email addresses at key periods in your website's existence (i.e. during launching of new eBooks or physical products, or during holiday sales).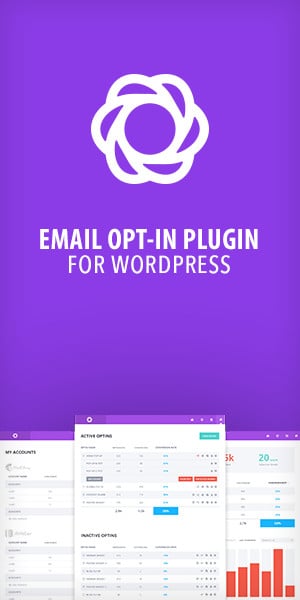 Benefits of Bloom 
1. Increased Email Subscribers
Web developers of Elegant Themes designed the Bloom plugin to have an intuitive user interface and multiple, customizable design settings. You can choose how the WordPress newsletter signup buttons will appear on your site. This will make it easier for visitors to sign up for your site's newsletter.
But it does not stop there, Bloom also allows you to combine different email marketing systems like AWeber and MailChimp so that you can reach your clients and track their status with just one plugin. You can even run A/B tests using different opt-in types throughout your site and then choose which opt-in form works best as evidenced by the conversation rates shown in the Bloom Dashboard. All these features eventually translate to having increased subscribers who are highly targeted to your site's content.
2. Multiple Design Options
As mentioned earlier, the Bloom newsletter WordPress plugin is meant to be both aesthetically-pleasing and customizable. You can choose between pre-made opt-in templates or design your own. You can choose the colors, the fonts, the location, the triggers, and frequency of your opt-in forms. With the help of the dedicated Bloom dashboard, you can do this conveniently without leaving WordPress.
Opt-in forms can be displayed as an automatic pop-up, an automatic fly-in, as in-line form, as below content opt-in form, as widget opt-in form, or as a locked opt-in form. Other customizable options that you can do with Bloom are: changing opt-in form image orientation; modifying form edges and borders; and applying form pop-up and fly-in triggers.
3. Focused Content
With a dedicated newsletter plugin for WordPress, you can choose on what posts or pages your opt-in forms will appear. This will allow you to target more visitors who are viewing highly-trafficked pages in your site, for example. By using this approach, you can be sure that the visitor signing up for your email list can be a potential customer (now or in the future) since this visitor is viewing a specific post in your website. Also, you can choose a different type of opt-in form to appear depending on the post or page.
Yes, your website needs Bloom…
Truly, there are endless options for free email subscription plugins for self-hosted WordPress sites nowadays. Just type 'subscribe plugin WordPress' or 'newsletter popup WordPress plugin' in Google and you will be bombarded with results. But here's the thing, none of these plugins can do what the Bloom Email Subscription Plugin can do.
There is no other newsletter subscription plugin out there that is as intuitive and functional as Bloom. As a website owner, you will no longer spend excessive amounts of time at email marketing as this will be made simple with Bloom. Instead, you will find more time in doing what is most important for your website: creating useful website content
Head over to www.elegantthemes.com/plugins/bloom to experience how thousands of other users have made their lives easier with this plugin.